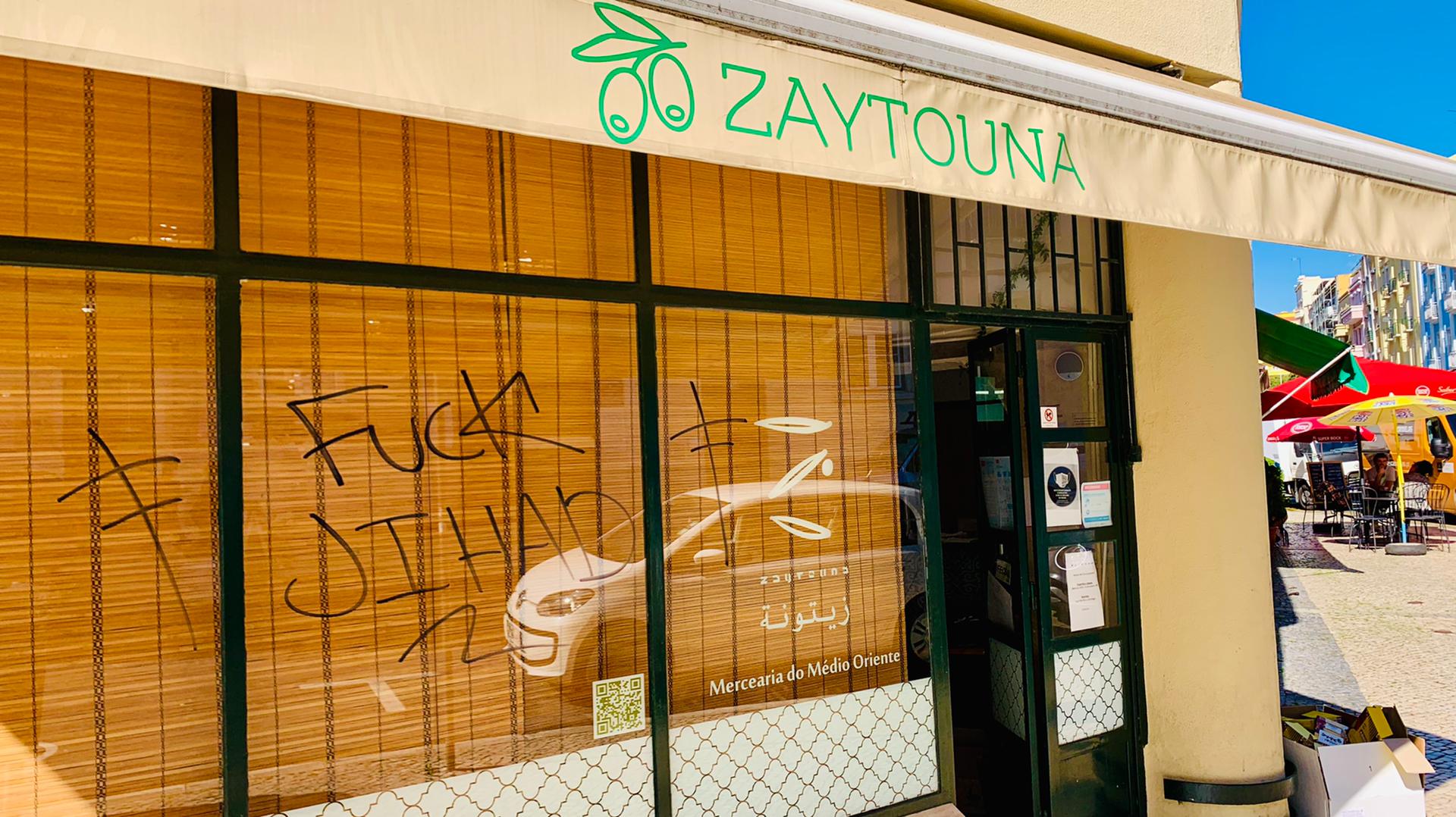 A loja Zaytouna abriu no mês de maio de 2018. Nasceu de uma amizade entre a Palestina e Portugal e de uma grande vontade de partilhar culturas. Desde o primeiro dia que clientes e amigos, de mais de trinta nacionalidades, entraram nesta loja e a tornaram-na no que ela é hoje: um lugar de tolerância, diversidade e de laços. Apesar de todo este percurso, cheio de coisas boas e de vontade de futuro, hoje acordámos com o ódio escrito nas nossas janelas. Ele é direcionado hoje a nós como foi no passado a tantos e tantas amigos e amigas de tantos sítios diferentes. Apresentámos queixa em todas as instâncias e decidimos escrever este texto porque apesar de este discurso de horror ser minoritário ele deve ser combatido e denunciado. Ele quer crescer mas não passará e nós não teremos medo dele.

A todos e todas que sofrem de discursos de ódio, de racismo, de xenofobia, de homofobia, transfobia, e a todas as vítimas da Jihad e tantos outros grupos que promovem a violência e a intolerância: não tenham medo. Nós seremos sempre mais e estaremos juntos, sempre.
The Zaytouna shop opened on May day, 2018. It was born from a friendship between Palestine and Portugal and a great desire to share cultures. From day one, customers and friends from more than thirty nationalities have entered this store and made it what it is today: a place of tolerance, diversity and bonds. Despite this journey, full of good things and a desire for the future, today we woke up with hate written on our windows. Today it is addressed to us, just as in the past it was to so many friends, from so many different places.
We have filed a complaint and decided to write this text because, despite this terror speech being in a minority, it must be fought and denounced. The sentiment will not be allowed to grow - it will not pass and we will not be afraid.

To anyone who suffers from hate speech, racism, xenophobia, homophobia, transphobia, and to all victims of Jihad and many other groups that promote violence and intolerance: do not be afraid. We will always be more and we will be together, always.
---